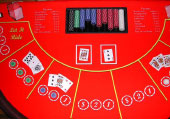 The game of Blackjack has been available in online casinos since their conception. It is one of the few games where a decent knowledge of conventional blackjack strategy can reduce the house edge to a 50/50 split and one of the reasons why it is so popular. Whenever you have a game worth a flutter, perhaps at a Live Casino, someone will design a betting system for you to use, and Blackjack is no different.
One such betting system used at the Blackjack tables is called Let it Ride. Let it Ride is a positive progression betting system similar to the famous Martingale system. It's one of the oldest forms of betting systems in operation and takes its form from the same concepts that banks use to compound interest. Let it Ride is often used in horse racing betting as well as Blackjack.
Here is the Let it Ride system in action?
You are a high roller and are playing at a $50-1000 limit table and you start by playing $1000 per hand. You are having a lucky night and start off by being dealt Blackjack immediately while playing for $1000 per hand. At odds of 3:2 you receive $1500 profit along with your original stake. You now have $2500 as a result of that bet and so you now: Let it Ride!
You could try to test your success at the system on the Live Dealer Blackjack, but you need to remember that this betting system is not for the faint-hearted and it will keep you on the edge of your seat all night long. In order to keep a modicum of control it is often prudent to select a stop-loss or profit target in advance of your session as this will make sure that you don?t get too carried away with all the excitement of Let it Ride!